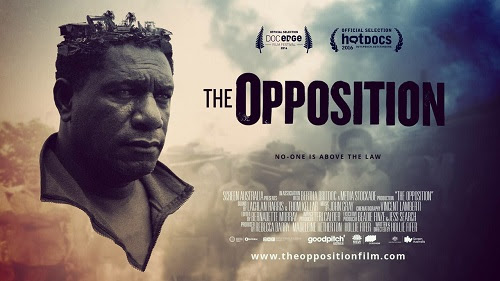 Jubilee Australia, along with out partners at AID/WATCH, are holding a special screening of the film The Opposition, on Wednesday August 2nd at Dendy Cinemas Newtown in Sydney.
The Opposition examines the battle over the eviction of 3000 people from Paga Hill community on the Port Moresby Peninsula in Papua New Guinea to make way for an Australian-backed property development, dubbed as one of the 'country's biggest public-private partnership projects.'
The film follows community leader, Joe Moses and the resistance and resilience of the Paga Hill community in fighting for their land as they battle against a development that is to change their lives forever. View The Opposition trailer
Along with our partners at AID/WATCH, we are also concerned that
Australian public money
is ensuring that the Leaders' meetings at the Asia-Pacific Economic Co-operation (APEC) summit in 2018 will take place at the controversial Paga Hill landgrabbing project.
Come an join us on the night to watch this powerful film and participate in a Q&A discussion afterwards with the advocates who are fighting for accountability and justice for Paga Hill.
On the Q&A panel on the night will be our very own Brynn O'Brien, along with the film's director Hollie Fifer and AID/WATCH's Natalie Lowrey. Independent journalist Antony Loewenstein will MC.
We are going to need your help.
Unlike a traditional movie showing, our Demand Film screening requires that 60 more tickets be reserved in the next 14 days for the screening to occur.
Tickets are $25.00 each. $5.00 from each ticket sold will be contributed towards AID/WATCH and Jubilee Australia's work to seek justice for the Paga Hill Community and ensure that Australia's aid money does not support projects profiting from human rights abuses and corruption.
We would love to see you in the audience and appreciate you helping us to spread the word - tell your friends and family to join us.